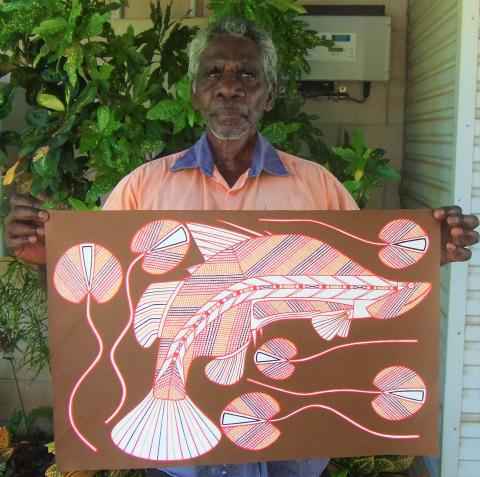 NAME: Leslie Nawirridj 
LANGUAGE: Kunwinjku
DOB: 1961
MOIETY: Dhuwa
SUBJECT SKIN: Balang
TRIBAL CLAN: Wurrik
Leslie Nawirridj is a traditional owner of Manddedjkadjang outstation on the Liverpool River. The outstation is a small community of Leslie's family members. His family, or tribe, have always owned these homelands. It is a "closed" community, which means that outsiders can only gain access by acquiring an entry permit. Leslie's artwork has evolved from the Aboriginal rock art of Western Arnhem Land. The rock art was painted thousands of years ago by Leslie's ancestors, and is a priceless relic of an ancient indigenous culture. Tourists can view approved sites by joining a guided tour. A unique feature of Kunwinjku Aboriginal art is the fine-line cross-hatching, called rarrk. The rarrk is traditionally used for Kunwinjku Aboriginal ceremonial painting.
Leslie has perfected the technique of painting rarrk, having practised it for more than 20 years. Leslie paints rarrk by making a fine-line paint brush from the stem of a reed. The hair-like bristles are inside the stem. The power of the paintings is in the rarrk. Leslie creates these fine lines with amazing accuracy. This is achieved freehand with great control and intense concentration. Leslie's rarrk is extremely strong and precise and has been described as "beautifully intricate and technically brilliant". Kunwinjku Aboriginal art often shows anatomical features (internal organs and bone structures) of birds, fish and animals. This is called painting in "x-ray", and gives the artwork an interesting three-dimensional effect. The "x-ray" style of painting captures the essence of the wildlife of Western Arnhem Land. It shows the depth of relationship between the artist and his country, and the knowledge he has of its inhabitants. When you're in Darwin, you can meet Leslie Nawirridj and see him demonstrating the techniques of the Kunwinjku style of Aboriginal art. These include making fine-line paintbrushes from the stems of reeds to be used for painting the fine-line cross-hatching called "rarrk". Leslie will show you the stages involved in producing an original artwork from painting the background, then the picture, followed by the representation of anatomical features in the animals (called painting in "x-ray") and the intricacies of painting "rarrk" with all the details added into the completed work. Please contact us for further details. Email: hello@kunwinjku-aboriginal-art.com